TAP AND HANDLE 7TH ANNIVERSARY SUPPORTS TERRY FARRELL FUND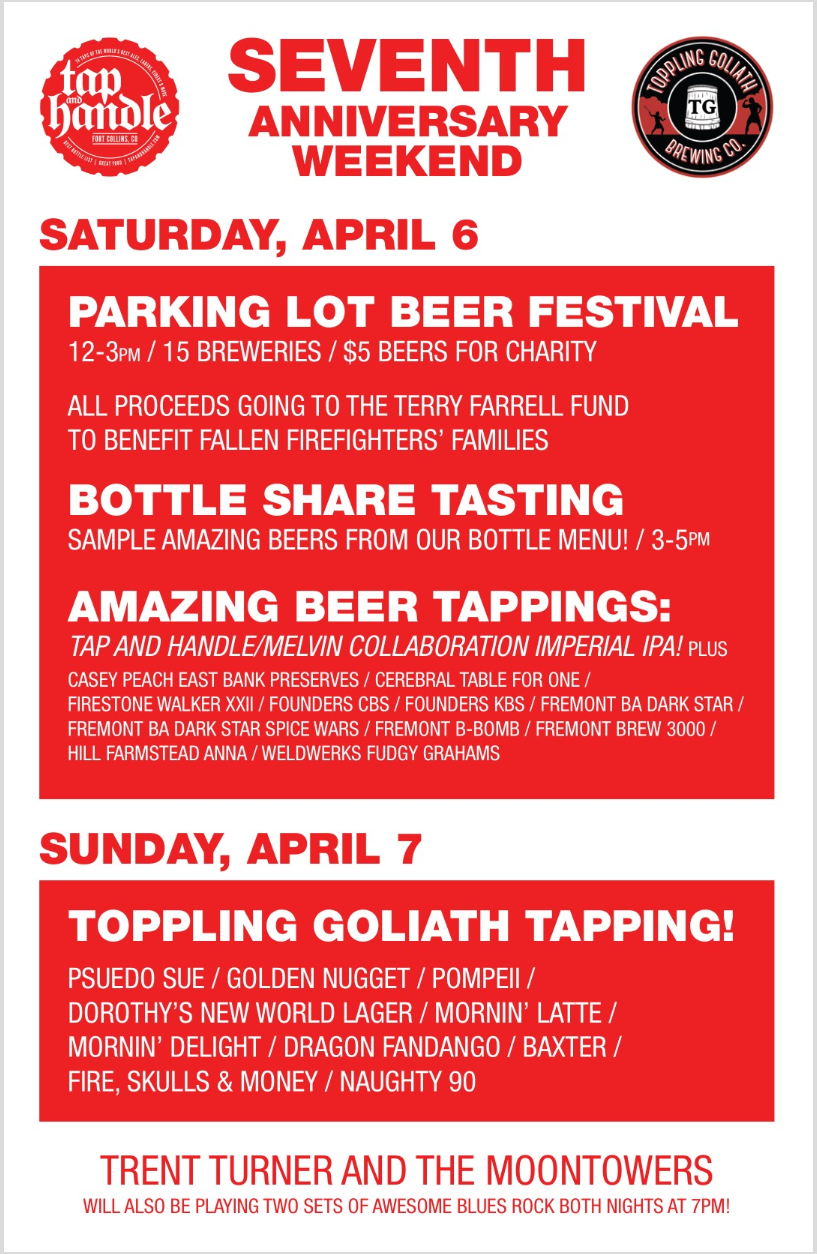 PARKING LOT BEER FESTIVAL 12:00PM -3:00PM : We are hosting 14 breweries, including Weldwerks, Horse & Dragon, Cerebral, Outer Range, Odell & New Belgium just to name a few, to set up in our parking lot! Beers will be sold individually for $5 per beer, buy beer tickets, redeem tickets with the brewery for a full pour. 100% of ALL BEER SALES WILL BENEFIT THE TERRY FARRELL FUND (Fallen Fire Fighters Families) Must be 21.
Special Beer Tappings: 12:00 PM : We will be tapping the following special beers: Melvin/Tap and Handle Imperial Hubert (Name TBD), Hill Farmstead Anna, Untitled/Mikerphone BA Hazelnut, Fremont BA Dark Star Spice Wars, Fremont BA Dark Star, Fremont Bbomb, Fremont Brew 3000, FW Anniversary XXII, Founders CBS, Founders KBS, Casey Peach East Bank Preserves, Weldwerks Fudgy Grahams, Cerebral Table For One
Bottle Share Tasting 3:00PM : Just like last year, we will pull some bottles from our list, and have them upstairs for everyone to try ON US! This time you get to keep a Tap and Handle tasting glass. This will end when all the beer is consumed. Must be 21.
Trent Turner at 7:00PM Friday and Saturday
Location:
Date/Time: April 6 @ 12:00 pm - April 6 @ 11:30 pm
Price: Free